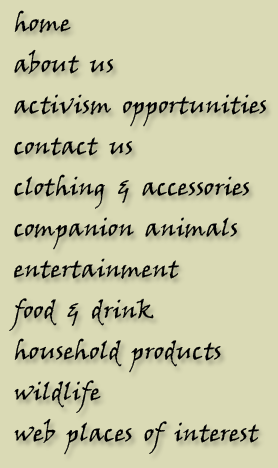 "I had bought two male chimps from a primate colony in Holland. They lived next to each other in separate cages for several months before I used one as a [heart] donor. When we put him to sleep in his cage in preparation for the operation, he chattered and cried incessantly. We attached no significance to this, but it must have made a great impression on his companion, for when we removed the body to the operating room, the other chimp wept bitterly and was inconsolable for days.
The incident made a deep impression on me.
I vowed never again to experiment with such sensitive creatures."
~Christian Barnard, surgeon


TAKE ACTION NOW!

Anyone can be an activist -- it just requires that you DO something.
Write a letter to the editor of your city or town's newspaper.
Make a phone call. Send a fax. Sign a petition. Talk to your friends and co-workers. Organize a protest. Post signs. Hand out leaflets to let the public know about animal abuse.

Money talks. Votes count. Actions make a difference.

USE YOUR VOICE, YOUR VOTE, and YOUR ENERGY for ANIMALS.

SPEAK TO POWER:
If you live in the US and want to contact your legislator
to let him or her know that you'd like to see more animal-friendly legislation, call the Capitol Building Switchboard to get your congressional representatives' contact info -- all you have to do is tell them what state and town you live in and they'll be happy to help you:
CAPITOL BUILDING SWITCHBOARD: (202) 224-3121
OR...

Click here to find and contact your representatives in Congress -- at the state and federal levels -- and tell them to take a stand for animals.
ACTIVISM STARTS WITH SPEAKING OUT. Use your First Amendment rights to speak your mind, share what you've learned,
and talk to others about what you believe. Informed people are powerful people. Share what you know, and learn something new every day.

It doesn't take long, and it can make ALL the DIFFERENCE.